Ph.D. Retreat 2020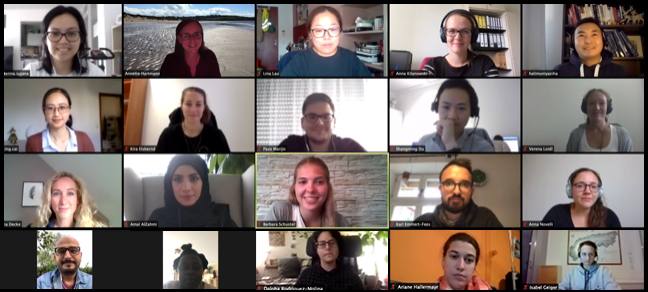 The 2020 Ph.D. Retreat took place from July 6th to July 7th, 2020 – as first online retreat via Zoom due to the COVID-19 pandemic.
Thirty students, seven supervisors and two guest speakers joined the Ph.D. retreat which allowed a vivid exchange and interaction despite the difficult situation due to the pandemic.

Each Ph.D. student presented his/her project and also described how their research was affected by the pandemic. In addition, the students also introduced their institutions, partly with amazing insights and awesome video clips!

In the afternoon of the first day, we had two interesting talks in the field of Medical Ethics. We had the pleasure to listen to a talk given by Prof. Joerg Hasford on "Ethical Review of medical research in Germany and current ethical issues in a world of globalized clinical research", and PD Dr. Verina Wild presented the 'Ethical aspects in medicine and Covid-19'.
The afternoon was concluded by a question and discussion session.

During the SARS-CoV-2/COVID-19 session on day 2, professional and elaborate data on the following topics were presented:
"Molecular Aspects and Diagnostics" by Dr. Annette Hartmann
"Epidemiological Aspects" by Prof. Ulrich Mansmann
"Aspects in Public Health" by Ph.D. student Jan Stratil

The retreat was supplemented by several breakout sessions in which the doctoral students could exchange ideas.
Prof. Reiner Leidl, Prof. Ulrich Mansmann and PD Dr. Larissa Schwarzkopf offered teamwork under their supervision on different aspects on Health Care Services.

Although it was a well-planned event running smoothly over two days, everyone is looking forward to a "real" Ph.D. retreat next year – in person!