Ph.D. Retreat 2017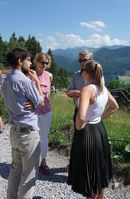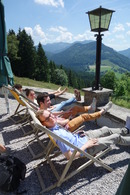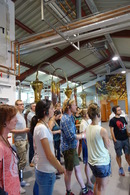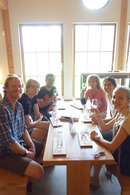 Eighteen PhD students came together with professors and a guest speaker for the annual PhD Retreat, which was held from June 18th to 21st, 2017 at the Schliersbergalm Hotel. The retreat featured short talks by each of the students, in-depth discussions of research, and the opportunity to connect and exchange information with fellow students away from the pressures of regular office work and meeting schedules.
While enjoying views out to the Alps and down to the beautiful lake below, participants were able to experience the impressive depth of research being carried out by their fellow students, as well as listen to a guest speaker and participate in a workshop.
The guest speaker, Jörg Weber from the London School of Hygiene and Tropical Medicine, presented the challenges associated with defining and providing credible evidence in scientific research, while sharing some of his experiences from many years of field work in the area of Disability Research. A workshop on discussion writing for scientific articles, led by Prof. Ulrich Mansmann, fostered dialogue among participants on how to formulate discussions, present negative findings, and on alternative directions researchers can take when publishing their work in the future.
The excellent weather also meant that participants could take full advantage of the recreational activities available at the hotel – including a pool, trampolines and the Alpine Slide down the mountain – all with incredible views. Additionally, the students organized a trip to the nearby Slyrs Whisky Distillery where they learned some of the science behind the distillation process, while of course having the chance to sample some of the final product.