Ph.D. Retreat 2016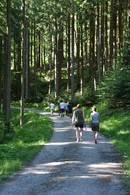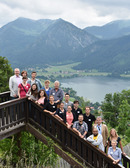 The 2016 PhD Retreat took place from June 20-23 at Schliersbergalm. The beautiful scenery and peacefulness of the chalet on top of a hill - far away from the rush of daily - created a perfect atmosphere for vivid discussions both during the scheduled talks and outside the seminar room.
In addition to the presentations of the PhD projects, we had the opportunity to listen to talks given by two external guests. Prof. Andreas Ziegler, head of the Institute of Medical Biometry and Statistics at the University of Lübeck talked about 'Random Forests: A Simple Machine Learning Approach With Many Options'. Prof. Reiner Sauerborn from the Institute of Public Health at the University of Heidelberg discussed the influence of climate change on global health. The combination of both statistics and public health very well represented the scope of research interests of our students.
But the retreat is not only about science – due to great summer weather we could go all together for a hike and enjoy the sun and beautiful view from the swimming pool. The only thing that did not work out was a ride down on the summer toboggan run on the way home – quite some disappointed students had to take the 'boring' gondola instead.